Access to confidence just got a whole lot easier!
PACE
Performance |
Achievement |
Confidence |
Empowerment
Level up your confidence and explore your potential.
The PACE Project champions participation and celebrates achievement within a supportive community.
Reclaim your self-confidence with 1:1 coaching strategies from our Confidence Coach and remaster disruptive learned behaviour to overcome fear or what is holding you back to close the gap from where you are to where you want to be.
Utilising your new confidence principles you will actively participate in the sport of a high-performance driving experience. With a newfound sense of increased capability, you will be empowered to take on those tasks, goals and paths with a higher belief in yourself both on and off the track.
It's fun, supportive, and conveniently set at your own PACE.
Bring your car and your enthusiasm, and together let's level up your confidence.
Suitable for all ages and experience levels.
The 2021 trailblazers with Driver Coach, Charlotte Poynting.
Discover empowerment, education, achievement and fun.
✅ Mindset and Go 1:1 for 90 mins ONLINE with resident Confidence Coach, Yvette Kinkade. Includes workbook & personalised action plan to set you up for success. – valued at $330.
✅ ONE FULL DAY track day event, where you participate on a race track in your car, explore your potential and set your baseline – valued at $285.
✅  1: 1 Coaching and mentorship from Aussie motorsport champions, professional Driver Coaches, Charlotte Poynting,  Emily Duggan,  Maisie Place, Jacqueline Taylor, Greg Boyle, Paul Boschert, Tony Virag and Martin Miller – valued at $850.
✅ Australian Auto Sport Alliance (AASA) annual compulsory General Speed Event Licence – valued at $95.
✅ Tech and Tactics access all areas. A customised ONLINE mechanical info and driver coaching session – valued at $240
✅ Confidence Mindset Masterclass. 1:1 for 90 mins  ONLINE with Yvette Kinkade and a VIP Special Guest Motivational Success Coach. Includes workbook and your personalised strategy as you prepare for your second track day event where you will showcase how far you have come. – valued at $440.
✅ Your SECOND FULL DAY track day event, where you participate on a race track in your car and this time you have a toolbox of strategies, new insight and focus and you're raring to go – valued at $285.
✅ Unlimited email and text access throughout the program. You're never alone.
✅ BONUS  – Merchandise gift pack –  valued at $75
✅ BONUS – Confidence PACE graduation certificate.
Total value

$2600
Meet your Driver Coaches.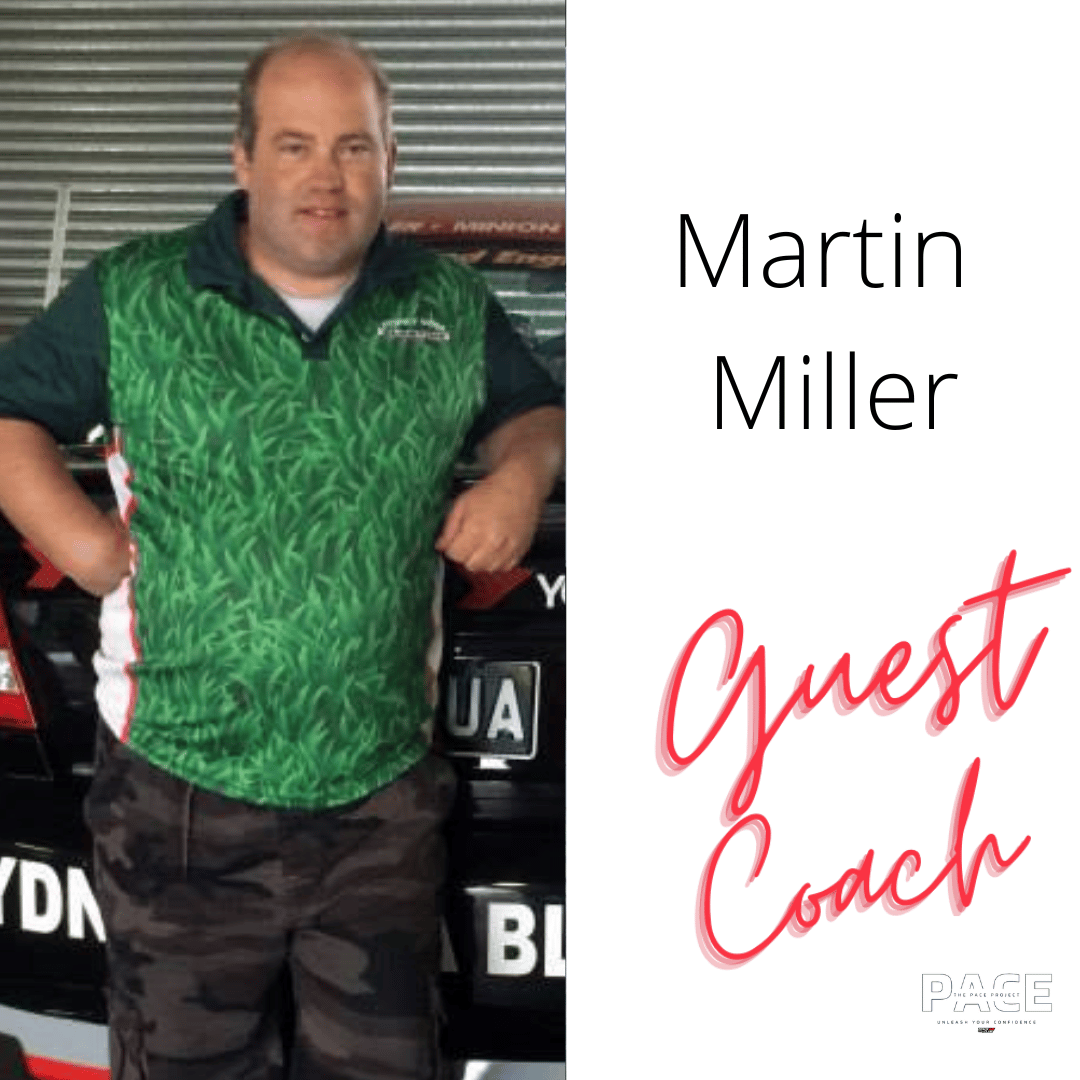 Lean in, there's no better investment than you!
Amanda. S
This was exactly what I was looking for and there is nothing else like it. The complete program that you offer covers every aspect of motorsport and is specifically targeted for women making it even better.
Being confident to know that I can be competitive in my current race series and I can improve. I now know that I have in no way peaked in my performance and I will continue to get better each time I race.
If you are anyone that wants to get more involved in motorsport, someone who loves the idea of taking their car on the track, someone who wants to learn more about their car or wants to take themselves to the next level, this program is for you. I loved every aspect of the program! It looks at every aspect of racing and the track and proves that they are all just as important as each other, which sets it apart from just another driving training program. Yvette is amazing and builds this little supportive unit around you that will last even after the program is finished. Thank you so much for building this amazing program!
Amanda
S
Melissa H
WOW. I joined the PACE Project in February 2022 and so many things have changed in my life since.
I changed my career path and I feel like my younger self after the experience, I'm back to being my best version of me.
The track-day experiences are an awakening and the day leaves you feeling so empowered. My improvement over two track days by using a new mindset is mindblowing.
I still can't believe how far I have come
I also really want to thank Yvette for giving me the tools to find my confidence, it has been such a fantastic experience.
Melissa H
Tania. N
I'd lost the passion that I used to feel for the things that I used to love doing Since the Women's PACE Project, I'm believing in myself again.
Signing up for The Women's PACE Project is one of the best things I've done.
Initially, it was the driving aspect that made me sign up but in the end, I gained so much more from this course. I believe in myself again!
It gave me the opportunity to set goals and the tools to help achieve them. I've met an amazing group of women. We have laughed together and cried together. It has been an amazing journey and I am grateful to Yvette for running such an amazing course.
Tania
Jai
If I can do it anyone can!
Seriously. Am going to frame my certificate as so proud of myself and that has expanded to other areas. Amazing support and encouragement.
Seeing so many different people train us and get in cars with us was amazing.
The community. Just bloody amazing. So accepting and welcoming.
Thank you. I can't say that enough. My driving each day is so different and so much more confident.
Jai
F
Yvette. M
I was stuck in a loop (or loops) of my own construction. My narrative was driven out of a personally unkind place. I couldn't be confident because I kept telling myself I wasn't ever going to achieve the standards I set, and when I did achieve anything close to what I wanted I focused on the failure within the success.
After the PACE Project, I like myself a lot more. That's really big for me! I feel a greater strength across the board in my life now. I feel more able to align with my true life.
Yvette
Debbie
What a blast. I can't believe it have just done this. I feel so amazing. I'm so damn proud of myself. Look at me!
Debbie.
Catherine
Firstly, thank you and your team for hosting such an amazing event, it can be so intimidating, but I felt so comfortable and inspired by a wonderful group of women. I have never felt so at home than I did yesterday. Oh, and the coach was amazing. I took away so much. I can't wait until the next event. I've been through so much in the last year, and I can honestly say that I'm finding myself through motorsport, so thank you.
Catherine
Cait
I looked into the Women's events that are held through Track Day Club when I lost a lot of confidence. This had to have been one of the best things I have ever done for my confidence. One of the best parts – COACHES! Having a Coach guide you is something I can speak so highly of. I can't wait to sign up for the Women's program for 2021; I know I have so much space to learn and grow. As Yvette keeps reminding us all, just keep breathing!"
Cait
Stefanie
I can't believe it's over!  I have had such an awesome time and honestly, you have pushed me to explore my own ability and confidence this year.
Stefanie
D
Claire
I connected with people who did not make it to the morning tea and two fellow Porsche enthusiasts from PCNSW, so had a great day. I felt like I was driving like a snail on the way home, but discovered I was doing 130 and felt quite comfortable, it's amazing how the brain interprets 'normal'!
Claire
Dana
Friendly Safe Fun and Legal! Yvette and her staff made it all so easy, practical, safe and fun. Everyone is super approachable including the trainer, Greg Boyle, who improved my driving immensely.
Dana.
SD
I have had such an awesome time and honestly, you have pushed me to explore my own ability and confidence this year.
SD
Detailed information on the PACE Project.
Mindset and Go.
Online
A dose of inspiration and insight with a 1:1 x 90-minute session to prepare you for the upcoming events.
Together we share the fundamental principles, expectations and outcomes of the PACE Project to ensure you are equipped and ready for the track days and what's ahead.
During the second half of this session, our resident Life and Confidence Coach, Yvette Kinkade will work with you to focus on discovering your strengths and values exploring the mindset that will invite more self-confidence to your life. ​​ So many of us get stuck on the life we think we 'should' live rather than living the life we want. Often we get in our own way and we begin to explore how to shift that mindset. You will set your goals and together we will define the path to your desired outcome.
Baseline, track-time 
In-Person
Your first track day at Wakefield Park Raceway, Braidwood Rd, Goulburn.
Take yourself to your very edge, lean in and prepare for exhilaration and a whole lot of fun, we've got you!
Baseline, track-time will help you overcome fear and increase your self-confidence and self-belief. Fear often steals our courage, but with your helmet in hand, and a supportive tribe by your side, you'll leap out of your current zone into self-discovery.
You will be equipped with driver coaches, a track walk, theory and practical assets, priority access and a probably a few butterflies. You'll be thrilled by what you are truly capable of. This day is catered for all experience levels in all vehicles, all you need is your helmet.
Tech & Tactics
Online
Are you curious to learn what makes your vehicle of discovery and the four wheels beneath you tick?
Curiosity is knowledge, and we are bringing in the big guns for over 90 minutes with their extensive expertise to arm you with clarity and competence around your car and the how's and why's.
Mechanical essentials with SR Performance. Car maintenance and more about braking applications and techniques and practical advice to utilise when driving both on and off the track. Tyres, wheel, tread wear and fit for purpose application and advice from Kumho Motorsport Tyres. We will talk about the all-important top driving techniques from Head Coach, Greg Boyle plus an informative Q and A and best of all, it's customised for you, your experience and your car.
Confidence Masterclass 
Online
Successful people always have a coach on their team, and our Life and Confidence Coach, Yvette Kinkade is back on board for an insightful 1:1 x 90-minute Confidence Mindset Masterclass.
 Confidence comes from feelings of well-being, acceptance of your body and mind, and a strong belief in your ability, skills or experience.
  Having identified your strengths in  Mindset and Go and focused on fear or what's holding you back in Baseline Track Time,  Yvette will share her proven strategies and practices to kick your procrastinator mindset to the kerb, overcome self-sabotage and fear of judgement and more as together you develop your personalised roadmap to confidence and discover the key to success and how to win both on and off the track!
 Track to Success
In-Person
Your 2nd track day at Wakefield Park Raceway, Braidwood Rd, Goulburn.
It's time to trust yourself; you have so got this!
With your newfound confidence and armed with a strategy toolkit, your baseline from your first track day and a village behind you, it's time to unleash and celebrate how far you have come. The edge of your zone has shifted, and you'll be astounded at what you have achieved. Get ready for a well-deserved victory lap! Your Driver Coaches will be by your side. Again, we'll equip you with a track walk, theory and practical assets, plus priority access.
You are fuelled by an ageless sport that is all-inclusive and fun.
Let's celebrate, it's time to welcome you to your confidence, your increased capability and your PACE.
The PACE Project is powered by Track Day Club.
Track Day Club has over twelve years of expertise in track day events across the eastern seaboard of Australia. With a modern and innovative approach to track days, Track Day Club leads the way with an all-inclusive and welcoming offering whilst delivering the opportunity to drive your car on the track.
From the novice to the enthusiast or someone in between, access all areas of friendship, education, information, inspiration and fun. Get involved and surround yourself with a like-minded community all enjoying not only the track time but a good time.
Weekend track days, corporate events and club days are also available.
Confidence is a key foundation from which achievement, success and happiness are built.